I cannot remember when I first met Chernoff face but it hooked me up instantly. I always hoped for confronting multivariate data from astronomy applicable to this charming EDA method. Then, somewhat such eager faded, without realizing what's happening. Tragically, this was mainly due to my absent mind.
After meeting Prof. Herman Chernoff unexpectedly – I didn't know he is Professor Emeritus at Harvard – the urge revived but I didn't have data, still then. Alas, another absent mindedness: I don't understand why I didn't realize that I already have the data, XAtlas for trying Chernoff faces until today. Data and its full description is found from the XAtlas website (click). For Chernoff face, references suggested in Wiki:Chernoff face are good. I believe some folks are already familiar with Chernoff faces from a New York Times article last year, listed in Wiki (or a subset characterized by baseball lovers?).
Capella is a X-ray bright star observed multiple times for Chandra calibration. I listed 16 ObsIDs in the figures below at each face, among 18+ Capella observations (Last time when I checked Chandra Data Archive, 18 Capella observations were available). These 16 are high resolution observations from which various metrics like interesting line ratios and line to continuum ratios can be extracted. I was told that optically it's hard to find any evidence that Capella experienced catastrophic changes during the Chandra mission (about 10 years in orbit) but the story in X-ray can't be very different. In a dismally short time period (10 years for a star is a flash or less), Capella could have revealed short time scale high energy activities via Chandra. I just wanted to illustrate that Chernoff faces could help visualizing such changes or any peculiarities through interpretation friendly facial expressions (Studies have confirmed babies' ability in facial expression recognitions). So, what do you think? Do faces look similar/different to you? Can you offer me astronomical reasons for why a certain face (ObsID) is different from the rest?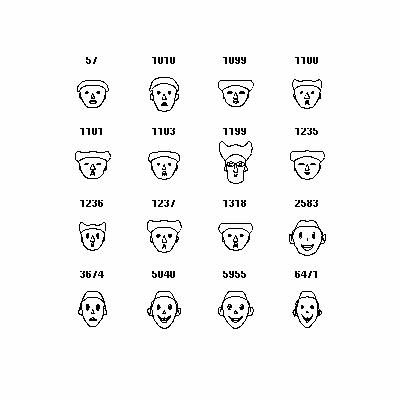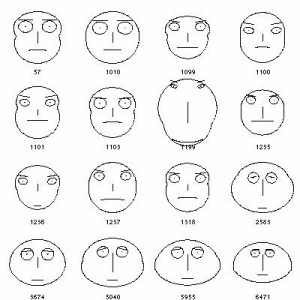 p.s. In order to draw these Chernoff faces, check descriptions of these R functions, faces() (yields the left figure) or faces2() (yields the right figure) by clicking on the function of your interest. There are other variations and other data analysis systems offer different fashioned tools for drawing Chernoff faces to explore multivariate data. Welcome any requests for plots in pdf. These jpeg files look too coarse on my screen.
p.p.s. Variables used for these faces are line ratios and line to continuum ratios, and the order of these input variables could change countenance but impressions from faces will not change (a face with distinctive shapes will look different than other faces even after the order of metrics/variables is scrambled or using different Chernoff face illustration tools). Mapping, say from an astronomical metric to the length of lips was not studied in this post.
p.p.p.s. Some data points are statistical outliers, not sure about how to explain strange numbers (unrealistic values for line ratios). I hope astronomers can help me to interpret those peculiar numbers in line/continuum ratios. My role is to show that statistics can motivate astronomers for new discoveries and to offer different graphics tools for enhancing visualization. I hope these faces motivate some astronomers to look into Capella in XAtlas (and beyond) in details with different spectacles, and find out the reasons for different facial expressions in Capella X-ray observations. Particularly, ObsID 1199 is most questionable to me.