!Converted with LaTeX2HTML 95.1 (Fri Jan 20 1995) by Nikos Drakos (nikos@cbl.leeds.ac.uk), CBLU, University of Leeds >
---
Next:
X--ray Quiet PMS
Up:
Contents
Previous:
Fits to Evolutionary
---
The X--ray selected PMS candidates may not constitute a complete list. The primary factor is the sensitivity limit, complicated by the vignetting in the field of the PSPC which was used to make the source list. The vignetting causes the sensitivity function to vary over the field, so one cannot quote a single sensitivity limit. In order to better understand the completeness of the X--ray data, photometry of every star in both regions was undertaken. The star identification was performed in the R--band frames using the DAOFIND task in the IRAF/APPHOT package. This task is fairly robust in rejecting objects with non--stellar point spread functions. The source positions thus identified were recentered on the individual frames using the CENTER task. Photometry and standardization were performed identically to the other stars in this study. The optical completeness, as determined by number counts, was V of 18.5 with some stars as faint as magnitude V=20 detected in at least three colors. More than 4000 stars were detected over a total of 2200 arcminutes

of sky observed. The results (with X--ray sources removed) are overlayed with the X--ray sources in Figures 6 and 7. The figures show that the data bifurcate into two distinct groups. There is a set of background stars below the main sequence (for an assumed distance of 400 pc). This set includes probable giant branch stars which can most clearly be seen in Figure 7 as a group of stars near V = 14 and R-I = 0.5 which lie in between the background and the PMS stars. The second set of stars are co--spatial with the X--ray sources.
Since reddening is not known for the bulk of the stars in the group, the temperature is measured simply by interpolating R-I using translations given by Bessell (1990). The V magnitude was converted to luminosity by using the same formulation as used in the previous section. Data on these additional PMS candidates are summarized in Tables 14 and 16.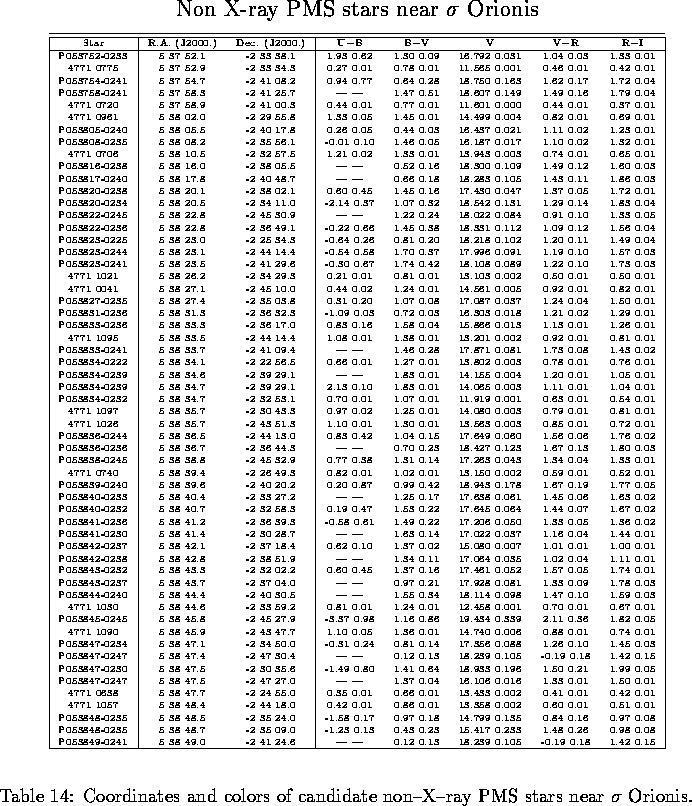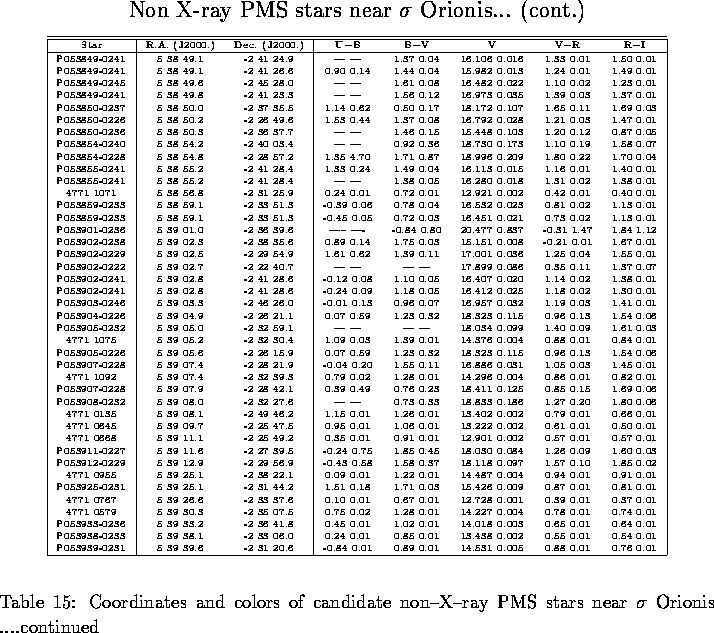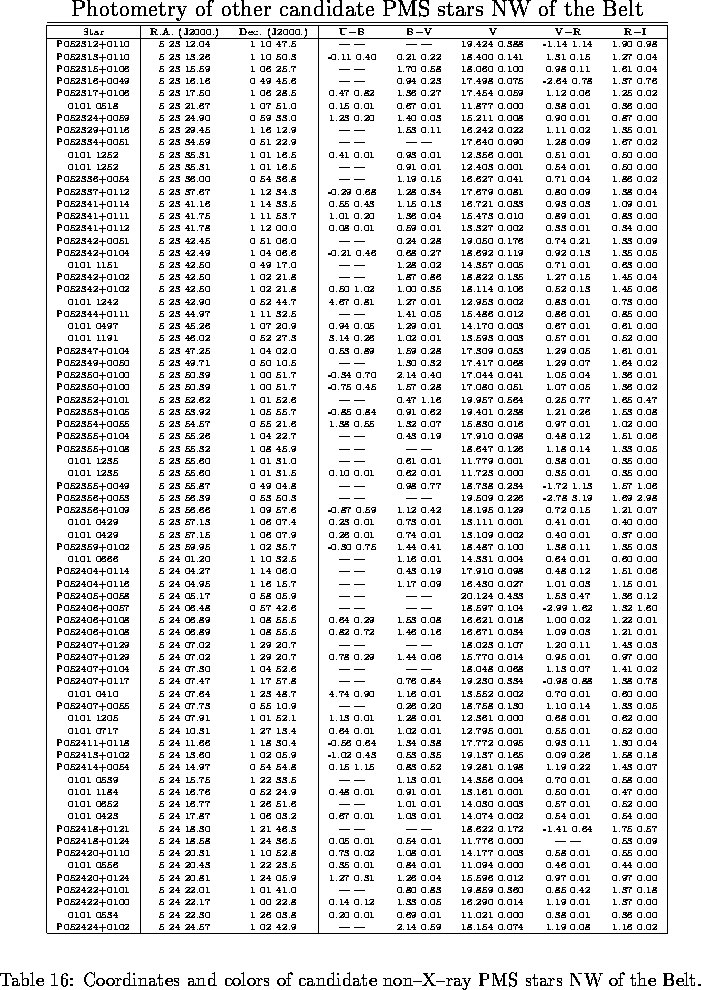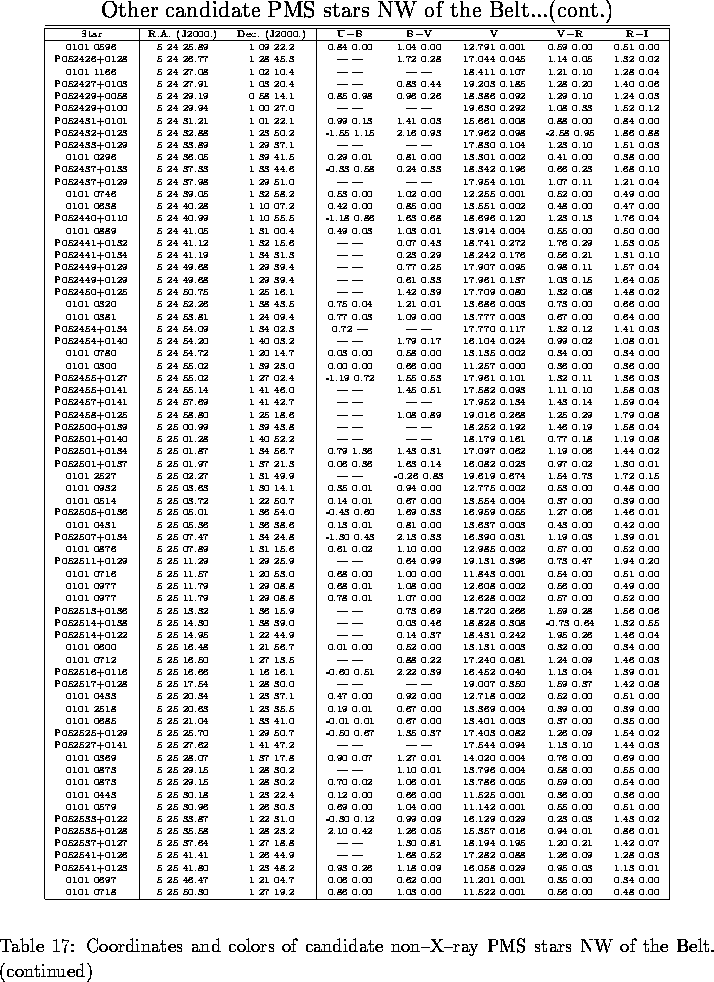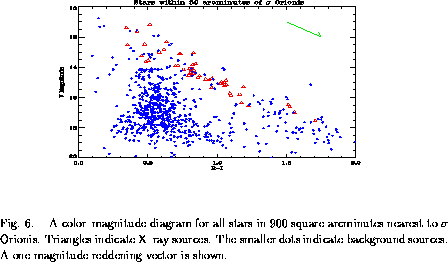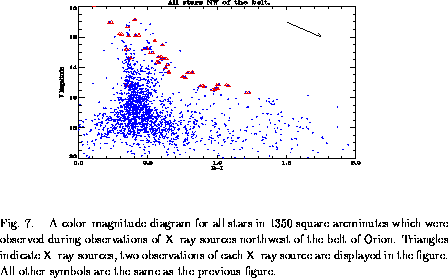 In Figures 6 and 7, the X--ray quiet stars, in the PMS region of the color--magnitude diagram between magnitudes V=11 and V=16, are about 50% of the total number of sources. This result is not an artifact of vignetting in the X--ray observations. Observations were made using both the ROSAT HRI and the ROSAT PSPC. While both of the instruments have strong sensitivity variations across the field,
regions generally obscured to one camera are not obscured in the other.
There is no positional correlation with the locations of the X--ray sources and the HRI sensitivity function. The X--ray quiet sources are distributed evenly across the field (see Figure 8).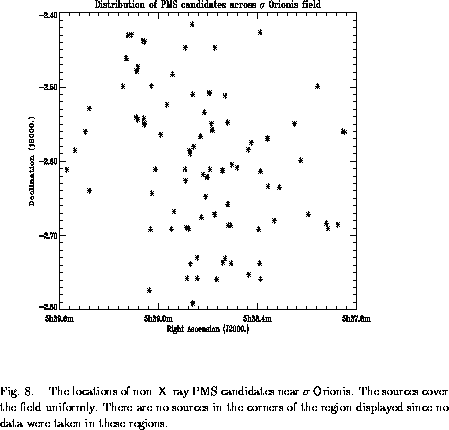 ---
---
Next:
X--ray Quiet PMS
Up:
Contents
Previous:
Fits to Evolutionary
---
---
Scott J. Wolk
Mon Dec 9 10:44:18 EST 1996