Tom's POVRay Horseshoe Magnet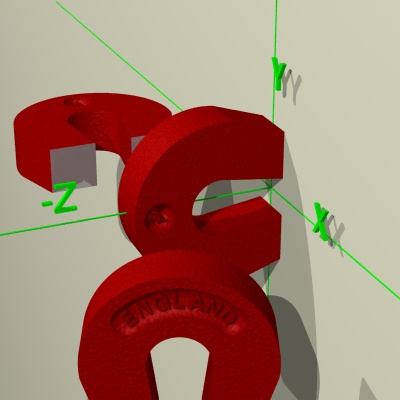 The picture above was made with this demo POV file and this magnet object POV file
About this Object
This is a small horseshoe magnet, painted red. This magnet is good as a "refrigerator" magnet -- for holding up papers and such on a metal surface. A texture is included which is supposed to look like the bubbly paint that was used on the magnet this is based on.

The real magnet has a small circular dent on one side, with the letter G on it (I have used the POVray logo here). The other side has a curved dent, with "ENGLAND" written in it. (Some magnets have only the letter G, and some magnets have nothing on either side). On the real magnet, all of the letters are hard to read, becuase they were cheaply cast, or because the paint is gloppy and obscures the letter.
Specs
The magnet is oriented to stick to a wall in the X-Y plane at Z=0, protruding out in the -Z direction, and is centered around the Z axis. This is shown in the magnet in the middle of the picture above. The magnet has a height of 0.9925 units. The rounded part is cylindrical, has a diameter of 1.125 units, and a center 0.43 units in the -Z direction. The magnet is 0.314 units thick.
Problems and Future Work
None of the edges are rounded, so it doesn't look as good as it should when enlarged. There is no built-in provision for showing paint wear and chipping along the edges. In addition to the bubbly paint, there is also some cracking on the real magnet.
Copyright
This web page, the associated image(s), and POV files are all copyright 2004 by Thomas A. Fine (that's me!). I hereby grant free distribution rights, including for-profit uses, in full or in part, provided only that copyright notices are preserved and due credit is given.

WARNING: This POV object is based on a real object. I'm not aware of any legal issues related to the design of that real object. It is the user's responsibility to cover your ass.
---