V616 Mon
---
---
Smithsonian Institution | Smithsonian Astrophysical Observatory | Center for Astrophysics | XRB SED Home |
---
---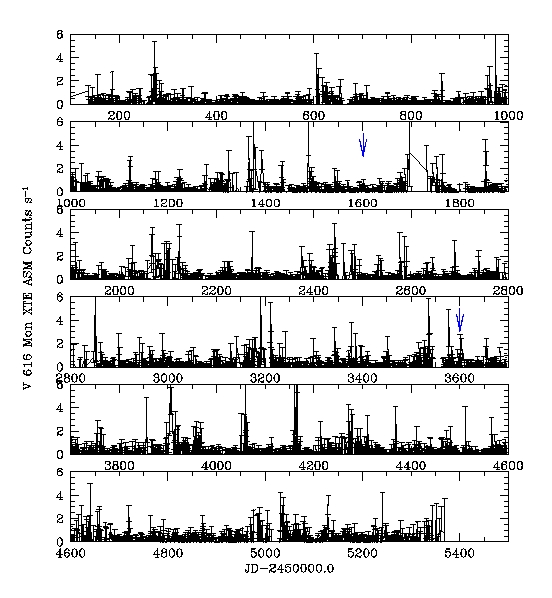 RXTE/ASM lightcurves of V616 Mon. Red arrows are radio observations, magenta arrows are optical observations, yellow arrows are ultraviolet observations, green arroes are extreme ultraviolet observations, blue arrows are x-ray observations, and cyan arrows are gamma-ray observations.. Compiled by Michael Lannum, July 23, 2009. Updated by Harry Hausner of Gann Academy High School, June 30, 2010.
List of Observation times:



Instrument		Exposure time			Date			Julian Date

Chandra ACIS-S	42670			2000-02-29 03:31:20		2451603.646 UTC
(HETG off)		40130			2005-08-20 08:35:42		2453602.858 UTC

ASCA			42304 (gis)		1994-03-21 13:18:20		2449433.054 UTC
			40480 (sis)

CGRO/COMPTEL	There are 12 observations from this instrument, ranging from 1991-04-22 17:21:07.2
(2448369.223 UTC) to 1993-05-13 16:19:12 (2449121.18 UTC)
and all above 10,000 seconds exposure time (from 145380 sec to 1809348 sec).




RXTE/ASM lightcurves of V616 Mon. Red arrows designate HST observation times; Blue is Chandra; Yellow is XMM; Cyan is CGRO; and Magenta is Spitzer. Compiled by Melissa Warstadt, August 13, 2007.