History and Description
of Bishop School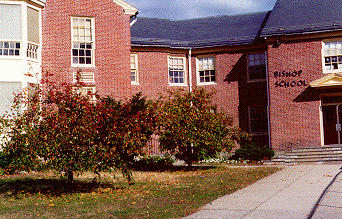 The John A. Bishop school opened in 1949 and welcomed the first class of children from the Russell School. A structural addition, consisting of four classrooms, was completed in 1956. The Bishop School served the children of the Morningside area of Arlington, Massachusetts until 1982 when it added to its population the students from nearby Parmenter School.

Bishop School is unique in that approximately one third of the children come to school on a bus provided by the Arlington Public Schools. Bishop is the only school in Arlington that has that high a population of its enrollment bused.

The Bishop School currently has 366 children enrolled in 17 classes, kindergarten through grade five. The sixth grade children attend Stratton School to ease the overcrowded conditions. The average class size is 21. There are 15.55 classroom teachers (full time equivalent) as well as a complete support staff for all children. Bishop participates in the METCO program (children from Boston bused to Arlington). The Arlington Extended Day Kindergarten is available in the school for up to eight Bishop kindergarten children in each session. There are private kindergarten and extended "surround" care facilities available within walking distance and close to our bus stops.

The children of Bishop School enjoy the same enrichment opportunities offered all the schools in Arlington. These include instrumental music lessons beginning in grade three, the Academically Challenging and Enrichment program beginning in grade four, and outdoor education camp in grade five. Children in grade four and five perform as a chorus twice a year.

The PTO is actively involved in a variety of ways throughout the school. There are many PTO committees chaired by parents that support the children and the staff. Fund raising is a strength of the PTO, supported by a variety of annual events. Money raised has gone towards materials for the staff and children, enrichment programs, grants, and significant grounds improvements (i.e., a nature center and a new playground). Parents also work in the classroom, co-chair school wide thematic units, and help supplement some of the arts programs.
---
---
Author/WebMaster Tania Ruiz
Last updated January 17, 1997