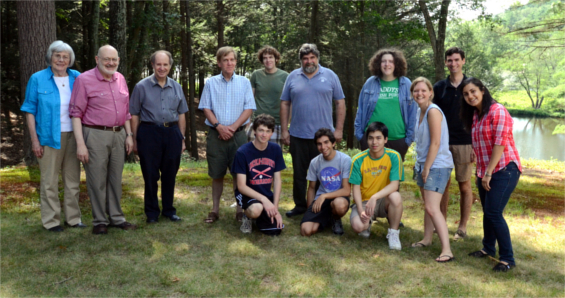 DASCH team gathering, July 213 . Top Row left to right: Ellie Simcoe, Robert Simcoe, Edward Los, Josh Grindlay, George Miller, Alan Sliski, Ellery Buntell, and David Sliski. Bottom row: Thomas Rhines, Rami El Adli, Kent Chan, Jamie Pepper, and Sandy El Moghazi. Not shown: Tim Chung, James Falese, and Nick Bealo.
Current Project Team
Prof. Jonathan Grindlay
HCO - Principal Investigator
Alison Doane
HCO - Plate Stacks Curator
Jessica Mink
SAO - Archive Software
George Miller
Graduate Student - Transient Search
Sumin Tang
Photometry
Mathieu Servillat
Photometry
Bob Simcoe
HCO associate - Scanner Hardware
Edward Los
HCO associate - Scanner Software
Alan Sliski
Consultant
George Champine
Logbook Photography
David Sliski
HCO - Assistant Curator
William Toomey
Plate Scanning
Carl Heinrich
Plate Scanning
Jim Ostiguy
Plate Scanning
Chase Green
Software, Plate Scanning
Bill Robinson
Software
Steve Siok
Plate Scanning
John Leonelli
Plate Scanning
Robert O'Day
Plate Scanning
Ray Kenison
Plate Scanning
Steve Homberg
Student Programmer
Julia Hardy
Plate Scanning
Ted Blank
Logbook Transcription
Melanie Gibson
Logbook Transcription
Jeremy Atkins
Plate Preparation
Joan Hagler
Plate Scanning
Richard Teague
Software
Bob Babcock
Software
John Messier
Cabinet maker
Monika Frerk
Plate Preparation
Sandy El Moghazi
HCO 2013 Summer Assistant
Project Alumni
Bill Weir
WPI - Machinist
John Blomquist
Machinist
Michael Shaw
2006 Summer Intern
Bruce Berger
Software
Tom Calderwood
Software
Tracy McGinnis
HCO - Assistant Curator
Jaime Pepper
HCO - Assistant Curator
Matthew Gordon
Student Volunteer
Silas Laycock
Photometry
Charles Steinhardt
Graduate Student - Database
Phyllis Van Dyne
Plate Preparation
Emily Zhang
HCO 2011 Summer Assistant
Brian Claus
HCO 2011 Summer Assistant
Bianca Homberg
Student Programmer
Preetham Chippada
2012 Summer Intern
Esteniol Maitre
2012 Summer Intern
Jaimie Ryan
HCO 2012 Summer Assistant
Tyreke White
HCO 2012 Summer Assistant
Hannah Alpert
HCO 2012 Summer Assistant
Ramy El Adli
HCO 2012/2013 Summer Assistant
Dylan Teague
HCO 2013 Summer Assistant
Tim Chung
HCO 2013 Summer Assistant
Kent Chan
HCO 2013 Summer Assistant
James Falese
2012/2013 Summer Intern
Ellery Buntell
2013 Summer Intern
Nick Bealo
2013 Summer Intern
Thomas Rhines
2013 Summer Intern
We appreciate the efforts of the logbook transcription team at the American Museum of Natural History in New York City led by Dr. Michael Shara, Curator, Dept. of Astrophysics, Christine Davis and formerly by Holly Barton. The team includes the following volunteers: Dave Krystel, Frank Piscitelli, Jane Wolff, Joseph Doherty, Michael Hamburg, Trudy Reitz, and Veronika Lea Kelly . Past contributors are Andrew Epstein, Aryeh Baruch, Barry Chin, Ian McManus, Kenneth Cunningham, Larry Furtsch, Lika Levi, Malcolm McLain, Michael Groysman, Michael Yohe, Nicole Steadman, Peter Lachman, Peter Marsh, Steve Goscinski, and Valerie Thaler.

The DASCH 2012 summer staff for prepared and scanned over 9,000 plates from June 1 to September 1. Top row: Esteniol Maitre, Ramy El Adli, and Jaimie Ryan. Middle row: Hannah Alpert and Tyreke White. Bottom row: Alison Doane, Jaime Pepper and David Sliski. Not shown: James Falese, Preetham Chippada, and Joan Hagler.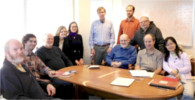 DASCH team meeting in December, 2011. Standing, left to right: Josh Grindlay, Mathieu Servillat, Steve Siok. Seated: Jim Ostiguy, David Sliski, Ray Kennison, Jamie Pepper, Alison Doane, Bob Simcoe, Edward Los, and Sumin Tang.